AP TET DSC NEW 1to6th ENGLISH FULL GRAND EXAM 100BITS 100 MARKS
1.ముందుగా ప్రశ్న క్లియర్ గా చదవండి.
2.ప్రతి ప్రశ్నకి క్రిందనే 4 options ఉంటాయీ ఏదో ఒక సరియైన సమదానము ఎన్నుకోండి .
3.ఇలా ప్రతి ప్రశ్నకి Answer చేయండి .
4.అన్ని ప్రశ్నలు Answer చేసిన తర్వాత లాస్ట్ లో "Finish" బట్టన్ నొక్కండి.
5.మీరు ఎన్ని సరైన Answers ఇచ్చారు ఎన్ని Wrong Answers ఇచ్చారు మీ Result చూపిస్తుంది.
6.ఇక్కడితో Online Exam ముగుస్తుంది.
#2. He is ____ humble person
#3. __ dog is a faithful animal
#4. ___ children are fond of sweets
#5. He uses ___ L.G mobile phone
#6. I met _____ Egyptian yesterday
#7. Shanthi is wearing ___ yellow sari
#8. They considered him ____ eunuch
#9. We ought to help ____ old
#10. I am learning ___ guitar
#11. You should complete your B.Ed.,_ your B.Sc. to get a teacher job.
#12. He is very fond ___ drinking green tea.
#13. They decided ____ buying a new house.
#14. She is not satisfied _ the results.
#15. Do you believe ____ God?
#16. Plese send __ the doctor immediately.
#17. Who is responsible __ this damage?
#18. What is your attitude __ child labour?
#19. My house stands __ all the other houses in the street as it is big in size.
#20. The bird flew _ the cage.
#21. The one _ was arrested was not the culprit.
#22. He is the man _ house was submerged in the floods.
#23. This is the town __ I like the most.
#24. ___ the day was sunny, we went out for picnic.
#25. The police arrived __ the thieves had left.
#26. __ you cooperate with the dentist, the tooth can easily be removed.
#27. _ wins with majority will become the C.M
#28. Sudhachandran, _ leg was amputated, became a great classical dancer.
#29. __ Sarath was going to office, he met with an accident.
#30. To __ was the letter addressed?
#31. Rearrange the following parts (1,2,3 and 4) in proper sequence to obtain a meaningful sentence 1. I wanted to tell him 2. Not listen to me 3. Not to talk to her 4. But he would
#32. 1. I were 2. Wish 3. A bird 4. I
#33. 1. Gave 2. A book 3. Me 4. She
#34. 1. Often 2. There 3. We 4. Go
#35. 1. Where is 2. Which I 3. The book 4. Gave you Yesterday
#36. 1. Old 2. Girl 3. Five Year 4. She is a
#37. 1. Do 2. You can 3. Whatever 4. You like
#38. 1. The 2. Who helped 3. This is 4. That day
#39. 1. Wait 2. None 3. For 4. Time and Tide
#40. 1. It gets 2. The higher 3. The colder 4. You go
#41. Choose the correct positive degree of the below sentences 41. Cuttack is the biggest town in Orissa. (SGT 2418)
#42. Keerthana is more traditional than Narthana.
#43. Manali is the coldest city in India.
#44. Delhi is more polluted than Mumbai.
#45. Economics is more interesting than Politics.
#46. The U.S.A is more materialistic than many other countries.
#47. Tea is not the cheapest drink.
#48. Hindi is not more widely spoken than some other languages.
#49. A wise enemy is better than a foolish friend.
#50. Pen is mightier than sword.
#51. Choose the right options that indicate the correct way to respond politely to the following expressions. 51. Can I leave the office now?
#52. Could you lend me some money?
#53. Shall we go to a movie today?
#54. Do you mind giving me a ride ?
#56. Could you help me to solve this problem?
#58. May I take you for a dinner?
#59. Do you mind if I come late?
#60. Would you give me a bag of rice ?
#61. The stuntman said to the audience, "Don't try this at home".
#62. Our teacher said, "India got independence in 1947".
#63. He said, "I think it is not possible."
#64. "We are going to Hyderabad", said my friend, "to visit the Ramoji Film city.
#65. The students said to the teacher, "Good morning, ssir".
#66. Father said, "May God bless you, my son!"
#67. "Don't disturb me, I'm preparing for the exams", said the boy to his friends.
#68. "Let's not stop here."
#69. "When I was going to school, I saw an accident." said the girl.
#70. He says, "I write poems."
#71. Choose the correct passive form of the following sentences. 71. The rich should help the poor.
#73. He made it possible.
#74. Nobody knows the answer.
#75. The girl is eating mangoes.
#76. She called him a fool.
#77. I want you to solve this problem.
#78. I am going to visit my friends.
#80. Mother Teresa treated all the people alike.
#81. Choose the verb that agrees with the subject. 81. I.... a student.
#82. The boy........... to school daily.
#83. One of my friends.......abroad.
#84. I ........... to Vijayawada.
#85. Hemanth............. English.
#86. Somebody...waiting for you outside.
#87. Children............fond of sweets.
#88. 1...... ...... busy yesterday.
#89. The Chief Minister, together with his wife..............come to the party.
#90. Mathematics...my favourite subject.
#91. Identify the part of speech of the underlined words in the following sentences. 91. The book is "mine".
#93. "Hari's" house is very big
#94. I woke up for I might miss the train.
#96. "One" should love "one's" country.
#97. "Each" for his own remembering has a list of lovely things.
#98. "All" teachers are present today.
#99. "Sunday" is a holiday.
మరిన్ని ముఖ్యమైన PDFల కోసం మన టెలిగ్రాం గ్రూప్ లో జాయిన్ అవ్వండి ⬇️
CLICK HERE TO JOIN TELEGRAM GROUP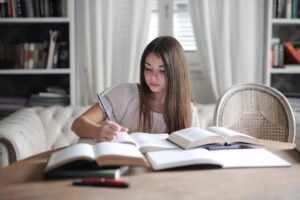 RAMRAMESH PRODUCTIONS INSTAGRAM ID FOLLOW ⬇️
CLICK HRERE TO FOLLOW INSTAGRAM
CEO-RAMRAMESH PRODUCTIONS